A few enterprises can successfully conduct business without a full-fledged website or at least a one-page-visit on the network. The site informs customers about services and products, allows you to pre-order, report promotions. And where there is a need to create landing pages, there is a place to develop your own business.
If you have the right knowledge of design, programming, and leadership, consider starting your own IT Company. This article will tell you how to open a web studio from scratch and successfully scale the project.
If you have the right knowledge of design, programming, and leadership, consider starting your own IT Company.
What format of activity to choose from?
You can focus on a small team of professionals who work remotely, register a firm with a legal address or set up a full-cycle agency. Let's talk briefly about each option.
Work through the site
The first orders you get as a specialist working alone. In this case, you do not have to rent an office and go through a complicated registration procedure. When the production scale is increased, it is enough to connect other specialists on a remote basis.
Pros: savings on registration, rent, pay
Cons: you won't be able to work with large customers.
Open an LLC and rent an office
This is a decision for the future if you want to participate in tenders and take large orders. To start to register the company as a limited company and make a website. Recruit a team of specialists in the staff and a few freelancers on the hook.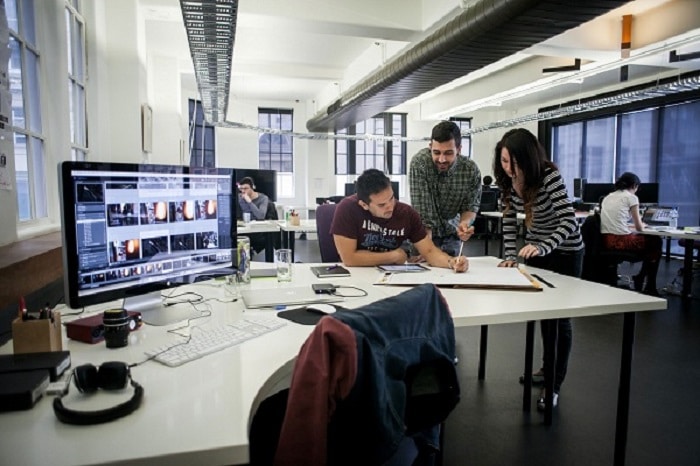 Pros: large orders, an increase in the average check.
Cons: complex registration, more tax base, growing payroll.
In addition to full-time employees, it is good to have a few flyers on the hook.
Create a digital agency
The digital agency exists only in the second format (with registration as AN LLC). At the same time, the range of services is seriously increasing. Websites, design, and layout are abutted for:
SEO, SMM, and banner advertising;
Media and targeted advertising;
Email marketing, etc.
Creating a digital agency has its own pros and cons as follows:
Pros: big average check, increase in the number of customers, a comprehensive approach.
Cons: mastering Internet marketing tools, the complexity of feedback (understanding the customer's task and the executor), and large investments at the start.
Web studio price services
The main activities of the web studio are related to the creation and administration of sites.
Site development
The most sought-after service, a must-have for a web studio. You may not administer sites or work with promotion, but create resources (including online shopping and landing page) is required. The package includes:
design development, the layout of the site;
Programming, developing plug-ins and add-ons;
Creating mobile versions
Filling pages with content.
Customers are individual entrepreneurs, small companies, online stores, private clients: coaches, bloggers, and presenters.
Have a creative idea? Contact us now and
let's transform it into a Web solution.
Promotion and administration
If you include the promotion and technical support on your service list, increase your revenue. Systematic maintenance and other additional services include:
Promoting new search engine sites
Setting up contextual advertising in Direct;
Resource administration
Creating banner and teaser advertising, etc.
However, before you offer these services, consider whether you have enough resources to handle the task.
Designing and redesigning as a separate service
For many customers, the service of redesigning and personifying templates is relevant. It is cheaper, so some customers create platforms themselves, and for the design go to the studio. In this case, specialists must update the design to suit the corporate style and add personalized elements.
Register the web studio: what documents will be needed
Before you open a web design studio, go through the registration process. Experts say that no budget or just a large organization will not entrust the site's creation to private individuals (you do not pass the terms of the tender). So for official settlements, choose LLC. Also, this organizational and legal form is mandatory for firms with several founders. You make up your financial responsibility and pay in case of problems with creditors, only the company's property.
The application period is 7 days. If time is running out or you do not want to register yourself, contact your lawyers.
Bank account and electronic accounts
To open a checking account, provide:
A copy of the statute of the LLC certified notarized;
Registration documents.
Creating a website for a web studio
Creating your own site is a stage that usually starts at the same time as registration. Customers have increased demands on digital studios. In fact, the site speaks about the company's capacity.
Be sure, in addition to specifying the list of services and price, place on the site portfolio. If there are no major works yet, take the time to create several presentation landings turnkey and at least one full-fledged resource. Without a portfolio, you will not survive against the backdrop of fierce competition.
Don't forget about your own advancement—high-quality page optimization and setting up Yandex. Direct will allow you to take a good position in the issue. And if the resource is adequately ranked, the chance to attract customers will increase.
How to save on hosting?
To pay several times less for hosting or be placed for free, make contacts with the hosting platform. After that, you will start receiving bonuses for the customers given or interest from the transfers.
The most interesting partners for web studios are connected with virtual and cloud services. For example, in exchange for customers, Infobox offers 10-30 % of each payment, plus free use of the platform for hosting the studio site and developing sites for customers.
Where to open a web design studio?
To open a web studio, rent an office in the center and register a legal address. You can limit yourself to just buying a mailing address, but keep in mind that large customers prefer to communicate with the executor in person.
To begin with, enough area of 30 square meters. Here you can easily place a few jobs with tables and laptops and organize a reception area with chairs and a sofa. Also, in the office, you need to install racks for documents and a safe. If you scale up your production, you can move to a more spacious and respectable office.
Computers and software
You need productive computers to develop a landing page and full-fledged sites. Keep in mind that graphic editors also consume many resources, so that that office hardware won't be enough. Be sure to have a multi-channel phone for receiving orders and stable high-speed Internet. Don't skimp on programs. Free tools will not solve all the problems facing the business. A minimum list of software for the design studio:
CSM programs;
Graphic editors;
Program for layout.
Employees: on the remote or in the office?
The main reason it is profitable to open a web studio is a wide range of opportunities to work with staff. You can start alone. And when there are more orders, attract assistants:
He's a builder;
Designer;
Programmer
Copywriter;
Web developer
Content manager.
If you do not know whether to hire employees or work with freelancers, you are based on volume for a beginner studio, which from time to time order landing page and logos, staffers are not needed. You run the risk of paying for employees' idle hours in the absence of orders.
Plus remotes – in the ability to scale. You can constantly work with the same designer and programmer and attract to atypical projects narrow specialists (on naming, selecting background music, etc.).
Once the project reaches a new level, form the main backbone. So you will gain confidence that you will give the job on time and will not waste time finding those who will come to the rescue when the deadlines are on fire.
To compile reports and maintain accounting, enter into a contract with an out-of-the-way company. Practice shows that this approach saves up to 50% of the budget compared to the staff unit.
Work with other studios
When the studio's own resources are not enough, cooperate with partners in times of influx of customers. Transfer the entire or part of the projects to another web studio and receive interest from the order.
Get Free quote now for ONE month free SEO!
Have a creative idea? Connect now and let's transform it into your Web solution.
The complexities faced by web studio owners
IT companies face several challenges in the process. These are the costs of specific activities. They need to be prepared in advance.
The complexity of the price justification: Not all customers see the difference between a $100 site made on the knee and a $1,000 or more working resource. After the transaction, it is necessary to work out objections and justify the price.
Dependence on employees: The worse the organization, the more you depend on the employees. A good manager will easily find a replacement for the designer, who one day will begin to consider himself a star or suddenly passed on decree optimizer.
Constant agreement: Sometimes it's easier to make a website than to agree to work with a client. Constant edits and refinements disable nervous performers. The rescue is a detailed technical task and a contract indicating the rights and responsibilities of the parties.
Advertising and promotion of web design studio
Why do some people thrive in this business and others close after a month of work? It's all about the ability to promote services. Be sure to have a certain chip that will set you apart from the competition. These can be cool logos for a particular business area or text for the homepage as a gift to the site. Use THEP When advertising. What tools to use?
Cold calls: Offer the company's services by calling customers from the contact database.
SMM: Create company groups on social networks to attract social traffic to the site and increase brand loyalty.
Use email: Send commercial offers to potential customers, focusing on companies of your level.
Hand out business cards: Attend conferences and themed events to reach potential customers. Print on the business card is the phone and address of the site and links to communities in social networks.
Move on the Internet: Start contextual advertising through Direct setting, blog the company, and order banner and targeted ads.
Initially, make the ad publications a target for small businesses and private customers. Only after gaining a certain weight in the market go to the big players.